Senior Regulation Manager (FTC)
This job is no longer accepting applications.
The OVO Group's purpose is to drive progress towards net zero carbon living. To reach Plan Zero, we need everyone to come together - not just as customers buying energy, but as members with a common goal. As part of this ambitious plan, our goal is to become the 'Leading Employer in the UK' by 2030. If you think you could be the talent we're looking for, then come and join the adventure!
Where in the world of OVO will I be working? 
Working within the OVO Retail Regulation & Compliance Team, reporting into the Head of Regulation & Compliance, you will be providing maternity cover for the Senior Regulation Manager. You will ensure that the retail business is well supported in developing their positions on regulatory change, ensuring a robust awareness of key changes to our obligations, and oversee our responses to retail consultations and information requests.
What will I be doing?
Key responsibilities include:
Ensure the retail business is well supported with effective and consistent regulatory advisory services in relation to Ofgem and Ofcom regulations, and industry code developments.
Support the senior management team to instill a culture of compliance across the retail business, supporting the development of a robust governance framework and increasing the awareness of regulatory obligations. 
Ensure the retail business has clarity on upcoming changes to regulatory obligations, and ensure the business is well supported on compliant implementation of regulatory change.
Oversee development and submission of responses to retail consultations and information requests from regulators, government and industry code bodies.
Maintain positive and constructive relationships with regulators, government, and other external bodies; and representing OVO Retail's interests at various external events and acting as a senior point of contact
Provide oversight of wider regulatory obligations, such as regulatory schemes and OVO's vulnerable customer strategy.
Manage a team of energy compliance professionals across multiple sites, setting effective strategic goals, and harnessing and developing talent to further support the strategic and commercial goals of the business.
Promote good practice and Standards of Conduct across OVO Retail.
Is this the job for me? 
Ideally you will have:
Experience managing a compliance team within a regulated market.
A strong understanding of UK energy markets, the regulatory change process, and the policy challenges currently faced within the energy market.
Strong understanding of Ofgem Supplier Licence Conditions, the regulatory environment, industry code development and Ofcom regulation.
Strong communication skills, with the ability to engage and influence senior stakeholders both internally and externally.
The flexibility to work in a fast-paced environment and the desire to challenge the status quo.
Ability to prioritise workload based on business priorities.
We want the best people 
At OVO, we empower our people to have choice around where and when they work - flexible working arrangements can be discussed for all of our roles. Please speak to the Talent Acquisition team for more info.
We're keen to meet people with varied backgrounds - our view is the more inclusive we are, the better our work will be. We want to build teams which represent a variety of experiences, perspectives and skills, and we recognise talent on the basis of merit and potential.
We understand some people may not apply for jobs unless they tick every box. If you're excited about joining us and think you have much of what we're looking for, even if you're not 100% sure… we'd love to hear from you.
Learn more about working in the OVO family of companies on our careers page and Glassdoor. We're also delighted to have received a Top Employers certificate in 2018, 2019 and 2020!
Apply
Your application has been successfully submitted.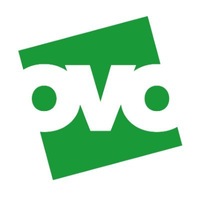 The OVO Group's mission is to drive progress towards net zero carbon living. We're a collection of companies with a single vision: to power human prog...