DevOps Engineer
This job is no longer accepting applications.
While people dream of a better energy future, Peak Power is building it. Founded in 2015, Peak has developed a comprehensive software platform that alleviates strain on the electricity grid and drives value to owners of clean energy assets, buildings, and electric vehicles through electricity markets. Our Synergy software platform optimizes the operation of distributed energy resources by forecasting and predicting the behavior of electricity markets.
Reporting to the VP of Software, you will have the opportunity to work with a talented group of people in a fast-paced and exciting environment. As a DevOps Engineering, you will be part of the performance engineering team with a mission to build infrastructure as code, implement reliable production deployments and increase the efficiency of cloud solutions to support software and data science teams. Your people, process and technology skills will be incredibly valuable as you work within the performance engineering team and with other teams.
Our new DevOps Engineer will
Collaborate with the team to deliver solutions incrementally that provide an elegant and seamless experience for our customers

Establish and track Service-Level Objectives (SLO) and Service-Level Indicators (SLI)

Create and improve tools for building, testing, deploying, monitoring and managing our systems

Continuously improve security, reliability, scalability and the team's ability to introduce new features and performance improvements

Implement an automated and tested disaster recovery plan

Diagnose and troubleshoot problems; implement changes so problems only happen once

As an expert, coach and influence others on the design, development and implementation of secure, reliable and performant systems that delight customers

Stay up to date with the latest web, mobile, cloud computing, machine learning and data science technologies

Adapt quickly as priorities shift to make impactful contributions that are recognized by the team
What you bring to Peak Power
3+ years of experience as a DevOps Engineer, SRE, Systems Administrator or similar technical role using Terraform, Java and related tools

AWS Certifications, or equivalent practical experience

Bachelor's degree in software engineering, computer science or related technical field (e.g., EE, physics or mathematics), or equivalent practical experience

Experience deploying and maintaining containerized cloud applications

Broad knowledge of software development, APIs, data stores, networking, security, machine learning and cloud computing services

Excels when collaborating with a small team using an agile process

Great collaborative problem-solving skills and ability to share ideas with others

Passionate about learning new tools, frameworks and technologies
So why Peak Power?
We are focused on solving problems that impact energy markets both locally and around the world. We are a growth-stage clean technology company that has partnered with major names in real estate, electricity, and smart city spaces. To work with us is not only to work with an exciting company, but to also be on the cutting edge of the global transition to distributed, clean, and carbon-free energy.
Join us!
Apply here or learn more about our company from our website or LinkedIn.
Peak Power is an equal opportunity employer. We welcome people of different backgrounds, experiences, abilities, and perspectives. Accommodations are available on request for candidates taking part in all aspects of the selection process.
Apply
Your application has been successfully submitted.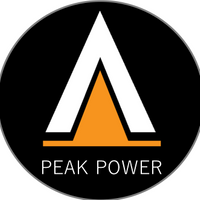 Peak Power's "Synergy" software platform forecasts, optimizes, and automates distributed energy resources including large commercial and industrial bu...